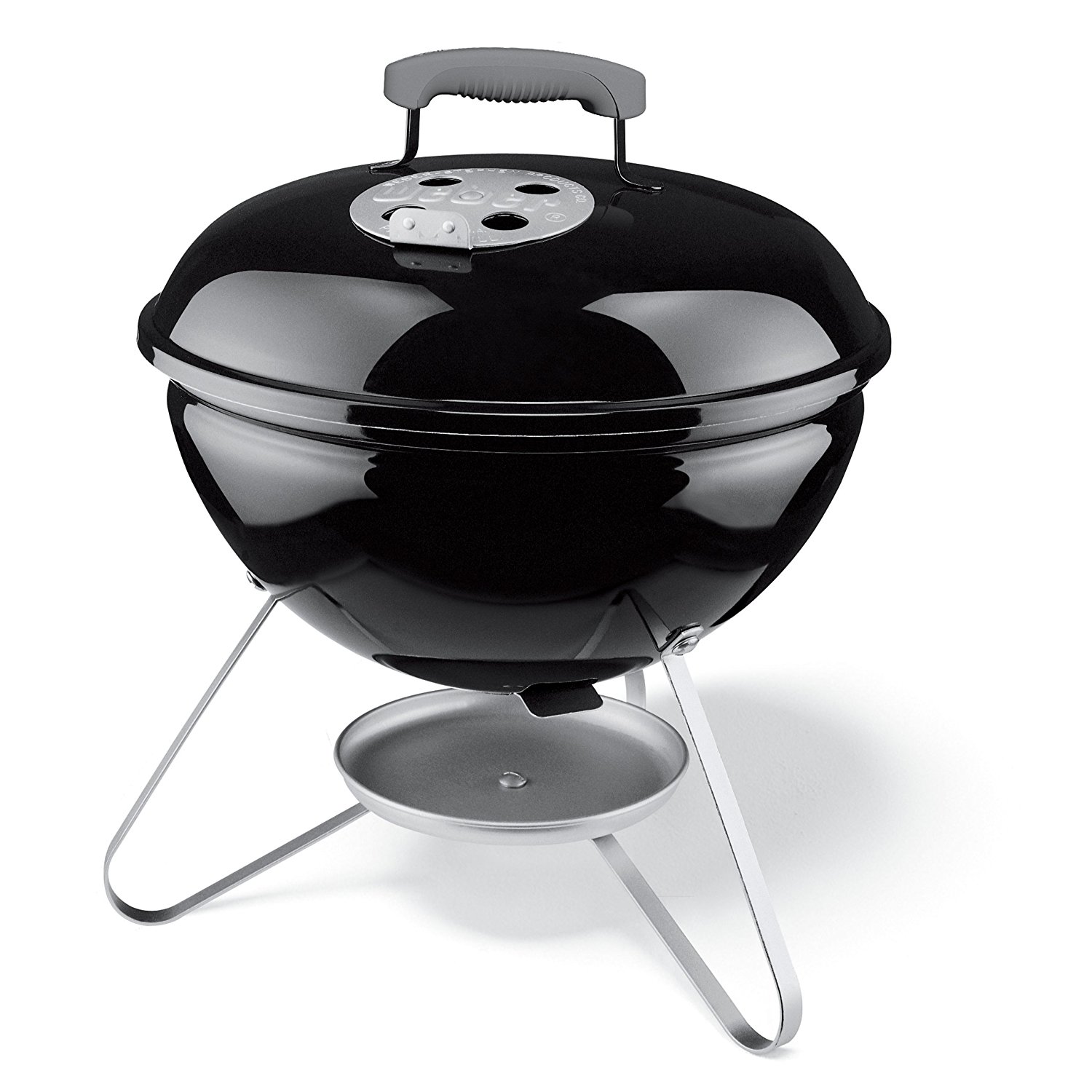 Since 1951, Weber has been one of the top names in outdoor grilling.
Their charcoal kettle grills have a long and storied history and remain some of the most popular grills to this day.
Even now that Weber has diversified to include both electric and gas grills, their charcoal grills are still their most popular products.
Now they're offering a new take on their old designs, with the Weber 10020 Smokey Joe 14-Inch Portable Grill.
This small grill for outdoor use can be used at home, on a campsite, at the beach, or anywhere that you need a quick and efficient charcoal grill.
Key Product Features of the Weber 10020 Smokey Joe Small Grill
Compact design with a 14-Inch Cooking Area

Classic charcoal cooking.

Air control valve for perfect temperature control.

Familiar kettle design with a raised lid and handle.

Porcelain enamel coating for a long lifetime.
Taking a First Look at the Weber 10020 Smokey Joe 14-Inch Portable Grill
Many of the grills available today are marketed for their size and extensive features.
While it's often beneficial to have a large and feature-packed grill at home, there are times when a small grill is the most practical option.
With a 14-Inch cooking area, this Weber grill allows you to cook virtually anywhere you go, without sacrificing the authentic charcoal taste that makes for a great cookout.
Being a small grill, there's not much to do in the way of unpacking and assembly.
You'll be able to get set up in a matter of minutes, and you'll be ready to use this grill at home or in the great outdoors.
You'll find that the assembly instructions are clear and simple to follow, and the first impressions of this grill are very good.
If you're familiar with the quality and appealing design that Weber is known for, then you'll find a lot to love about this small grill.
Classic Cooking in a Small Package
Of course, the biggest advantage to owning this grill is its compact size.
Whether you have a small property where a large grill would be impractical, or if you want a camping grill, or even do a small barbecue on your balcony, then the Weber 10020 will be an excellent option.
Because of its compact size, you won't need to keep a lot of charcoal for cooking meals, and clean-up will also be easier when compared to a larger grill.
Charcoal is lighter and more portable than a propane tank, so if it's the authentic BBQ flavor you're after, you can't go wrong with this small grill.
The small footprint of this grill will also be an advantage, whether you are storing it at home or loading it into a camper, the trunk of a car, or the back of your truck.
Charcoal Flavor Will Satisfy Even a Grilling Purist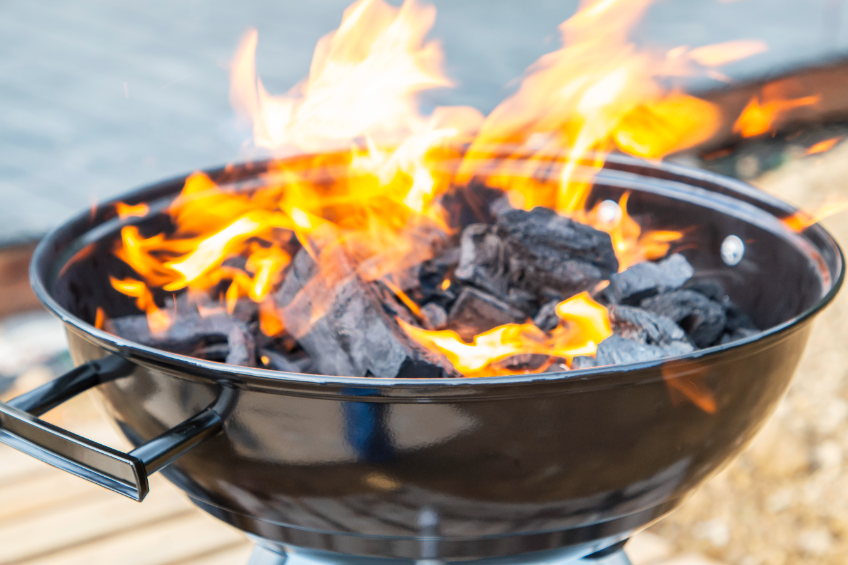 There is plenty of home and professional cooks who swear by the charcoal flavor of grilled food.
While some people will tell you that a propane grill can cook just as well as a charcoal one, the reality is that only real natural charcoal and wood chips will provide the smoky flavor that barbeque enthusiasts crave.
If you have always wanted to cook the authentic way using hot coals, but couldn't justify the space that is required for a large kettle grill, then this small grill is a great alternative that can introduce you to the great flavor of charcoal grilling.
Ease of Use is a Strong Point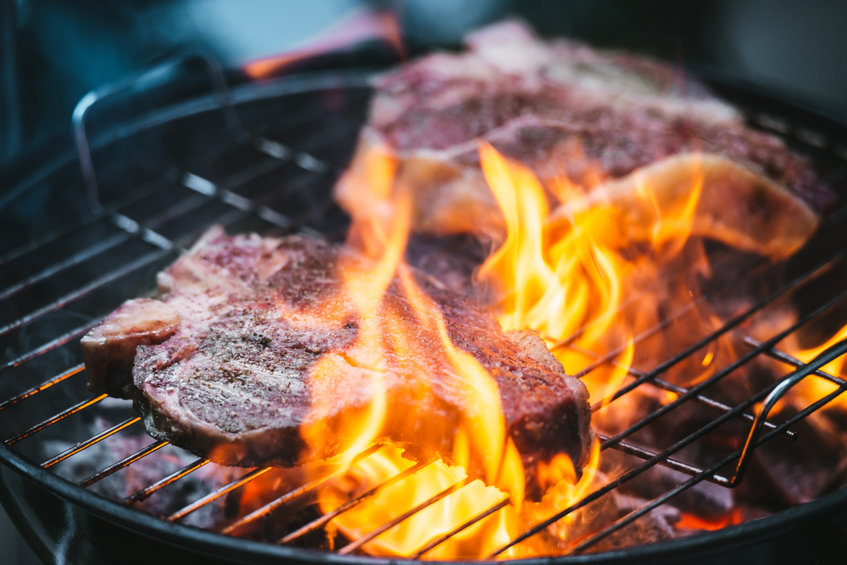 When you purchase a grill, you need to be sure that it is easy to use, clean, and maintain.
With a large grill, there will be a lot to worry about when it comes to maintenance.
Because a full-sized grill has a large surface area, keeping the right temperature will mean using a significant amount of charcoal, which also means that cleanup is going to be fairly extensive.
The Weber 10020 charcoal small grill is small enough that cleanup is not a problem, but it's not so small as to limit cooking in most scenarios.
You'll be able to get 5 – 6 good-sized burgers on this grill, and you'll also be able to cook bone-in chicken, steaks, skewered food, or whatever it is that you love to grill.
The only times you will feel limited is if you want to roast a whole leg of beef, lamb, or pork, or if you want to cook a whole chicken.
This grill is not designed or marketed for cooking large meals, so if that's what you're looking for then there are better options on the market.
Having the inclusion of a hood means that you'll be able to get good convection inside of the grill, which means that food can be cooked faster without drying out, and it also ensures that food is cooked all of the ways through.
There are no bulky lids or temperature control settings to worry about, and you'll simply use the top-mounted air vent to control the air ratio inside of the closed grill.
More oxygen will ensure a more intense heat, so simply open up the valve if you want to get a high searing temperature inside of your grill.
Besides getting your coals started, and controlling the temperature valve, there's very little to learn about this small grill in terms of cooking, so you'll have more time to focus on preparing the food that you love.
The ease of use is almost on par with a small electric grill, and the only real difference here is the fuel source that you'll be using.
If a no-nonsense small grill is what you've been looking for, then the Weber 10020 is a grill worth considering.
Construction Quality and Materials Used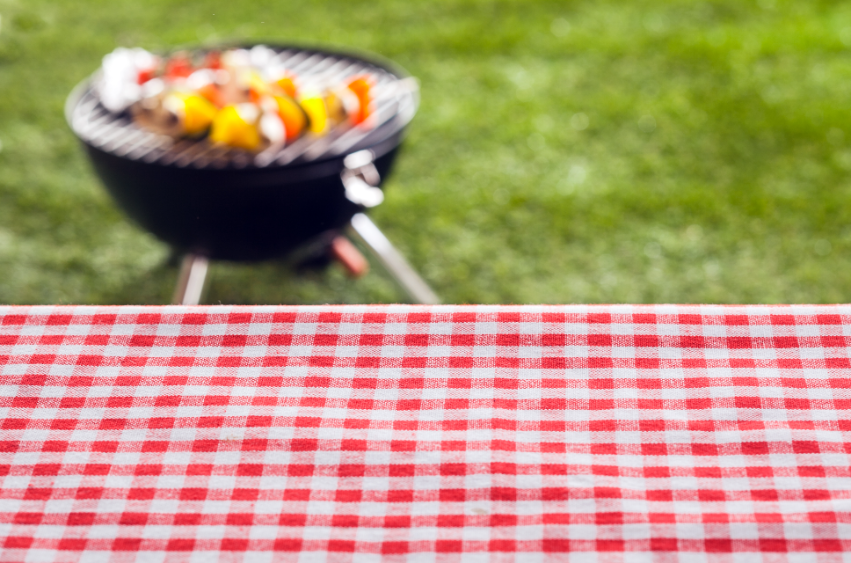 If you're going to be investing in a grill, even one that is as affordable as the Weber 10020 Smokey Joe small grill, you will want to know that it is made from high-quality materials that will last for many years into the future.
It would be easy to assume that with this grill being so affordable, corners would be cut on the construction and materials used.
Thankfully, and in true Weber's spirit, the company has used premium materials wherever possible.
The grill itself is made from high-grade aluminum, which feels sturdy and reliable.
Weber has used a porcelain enamel coating on the kettle parts of the grill, which will help to inhibit rust, and prevent food from sticking, and should generally ensure that this grill lasts for a long time.
The legs are also made from aluminum and are probably the weakest parts of the entire assembly.
They're suitable for a grill of this size, but it could be said that they are flimsy when compared to a larger Weber grill.
While this is true, you need to take price and purpose into consideration.
Sturdier legs would make the grill more expensive, and they would also make the grill heavier and less portable.
For its purpose as a small home or portable camping grill, the legs perform their job well and are in line with the overall look and feel of the product.
The cooking grate is made from metal and is triple-plated with a nickel alloy.
This helps the surface to disperse heat, and it also makes it resistant to corrosion and sticking.
This small grill doesn't use a recessed grate like on some larger Weber models, which is more practical considering the size of the grill.
Overall, if you're looking for the materials and quality that you would find on a grill that is ten times the price, then you won't find that on the Weber 10020 Smokey Joe small grill.
However, if you've been dissatisfied with the materials and construction quality of other compact grills, then the Weber will be a nice surprise, and it punches above its price range in terms of quality.
Pros and Cons of the Weber 10020 Smokey Joe 14-Inch Portable Grill
For a basic portable grill, you'll want to know what the standout top features are, along with any that detract from the overall experience of the product.
Here's what we've liked and disliked in our review of this small grill.
Pros
Effortlessly portable and only requires a small amount of charcoal fuel.

Maintains temperature well when using the included lid.

Follows the same basic design principles as the larger Weber kettle grills.

Easy to unpack and assemble.

Authentic charcoal flavor.

Good materials that you would find on larger and more expensive grills.
Cons
A relatively small cooking area means this is not as versatile as a larger grill.

The domed lid is shallow which limits your food options.

Leg design could be improved to add stability and overall quality.
What do Consumers Think About the Weber Smokey Joe Small Grill?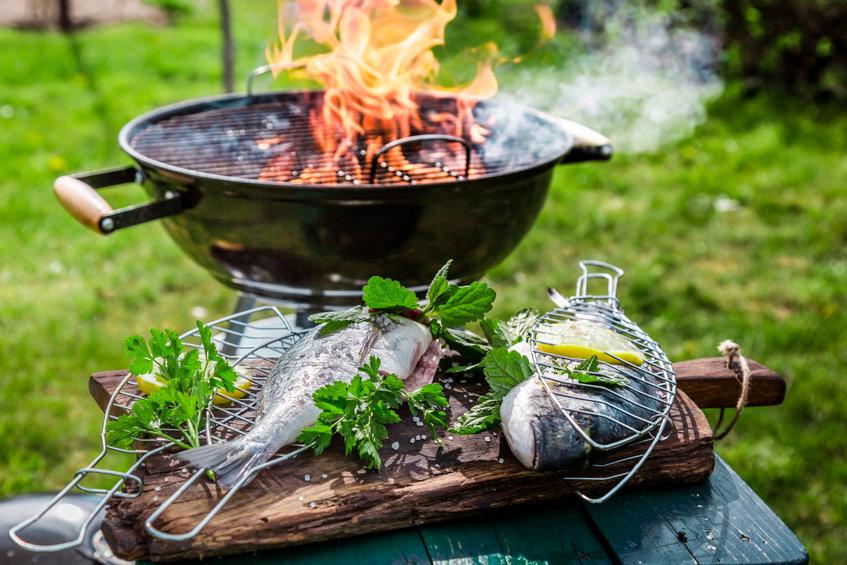 This grill has proved popular and is currently one of the bestselling small grills on the market.
There has been plenty of feedback from verified purchasers, which allows us to take a close look at how this performs in the real world.
Owners have been quick to point out that this is one of the best of the small charcoal grills available online, and the construction and materials are of higher quality than comparable branded and unbranded grills that imitate the same design.
Owners also like the simple design, but there have been some that have commented that it would be more practical if there were handles on the side of the grill.
With the current design, it cannot be safely moved until the grill has completely cooled.
Consumers have also been highly positive regarding the ease of cooking and the flavor that you can get from this grill.
Many owners have successfully used small foil trays to add additional smoking chips into the grill when cooking, which means that it can be used as a temporary smoker on the beach or at a campsite.
This means that freshly caught smoked fish will become a reality, and this is one of the best companion grills for outdoor enthusiasts.
Recommended Accessories for Owners
The Weber 10020 Smokey Joe is an excellent product on its own, but it can be made even better with one simple accessory.
Weber makes the 7447 Compact Rapidfire Chimney Starter, a simple device that will allow you to get coals lit and up to temperature in 15 minutes or less.
It is designed to fit on the Smokey Joe small grill, and it even fits the Jumbo Joe grills if you have one of the larger models at home.
Purchasing a chimney starter will make outdoor cooking quicker and more convenient, and the lightweight and compact nature of the design means that it won't be inconvenient if you decide to take this grill on your next camping trip.
Final Thoughts and Recommendation
What are you looking for in a grill? If you need a large grill with a big surface area for large parties and gatherings, then the Smokey Joe is not going to be for you.
However, if you want a small grill for cooking at home for yourself or a small family, or for taking on camping trips, then this 14-Inch portable grill should be at the top of your list.
It's made better than comparable compact grills and uses better materials than the average brand.
It has been well received by consumers, indicating that it's a solid product that is worthy of your next purchase.
To top it off, Weber offers a ten-year limited warranty with the Smokey Joe, making it an easy decision whenever you need a compact charcoal grill that is capable of cooking most BBQ foods, with authentic charcoal flavor that you won't get over a campfire or on the propane-fueled grill.