Gas grilling is convenient and one of the best ways to create flavorful meals for friends and family.
If you love the freedom of cooking outdoors but want a grill that offers more than the average two or three burner model, you can consider the best premium gas grills.
Premium grills are made from higher quality materials, are typically larger than entry-level and mid-range models, and usually have more features.
Here are three of the best premium gas grills that you can buy today.




Weber Spirit II E-310 Premium Propane Grill
Weber is one of the top names in grilling, known for reliability and impressive performance.
If you are looking for a premium gas grill for family cooking and entertaining, the Weber Spirit II E-310 is one of the first models that you should consider.
While it's premium in its design, fit, and finish, this is a reasonably priced grill making it accessible to the average home grilling enthusiast.
With the E-310 you will enjoy features like:
Three main burners for efficient direct or indirect-heat cooking.

Up to 30,000 BTU of power.

529 square inches of cooking space.

Porcelain-enameled cooking grid and Glamorizer bars.

Open cart with sturdy construction.
A three-burner grill is ideal for cooking several different ingredients or cooking away from direct heat.
The large hood makes indirect cooking easy, allowing for natural convection and radiant heat to thoroughly cook ingredients.
The hood is coated in porcelain enamel for durability, and it features an accurate thermometer.
The three burners are made from stainless steel and are commercial-grade.
They allow for consistent heat at any setting, and the GS4 grilling system that Weber uses offers immediate ignition every time.
With a large cooking area, you'll be able to cook solo meals, family meals, or serve guests with your grilled specialties.
There's the main cooking surface made from durable porcelain-enameled cast iron, as well as a secondary warmer rack.
The large side shelves make preparation a breeze, and there are storage hooks and cart storage underneath.
Although this grill lacks a fully enclosed cabinet, it's incredibly durable and could become your favorite cooking appliance at home.




Napoleon Rogue SE 625 Premium Gas Grill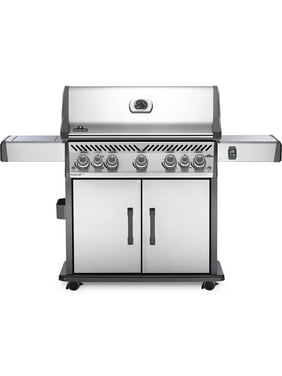 If you're ready to step up in price for one of the best premium gas grills on the market, Napoleon is one of the best brands to consider.
Napoleon combines features, durability, premium materials, and competitive prices.
The Rouge series of grills isn't the most expensive in the Napoleon range, but it does offer the best combination of premium features for the price.
The Rogue SE 625 RSIB Gas Grill is an outdoor cooking station that offers everything you need for family cooking and entertaining.
Standout features of this premium gas grill include:
5 main burners for direct and indirect-heat cooking.

Up to 88,500 BTU of total cooking power.

980 square inches of total cooking area.

Stainless steel construction.

Folding side shelves.

Enclosed storage cabinet.

Stainless steel cooking grids, burners, vaporizer bars, and warming rack.

Side burner and infrared technology.
The size of this grill makes it a significant step up from the Weber E-310.
With 980 square inches of total cooking area, this covers all cooking styles regardless of ingredients.
From whole birds and game meat to the largest barbecue cuts, this grill will do it all.
The grill itself and the cooking surfaces are made from durable stainless steel to prevent rust and deterioration.
This will give you confidence knowing that you're making a long-term investment.
Aside from the cooking surfaces, stainless steel is also used for the hood, side shelves, and cabinet.
Special features like the convenient side burner, rear rotisserie burner, and infrared sizzle zone add versatility to the package.
If you are looking for a grill that can sear like the hottest charcoal grills, or go right down to low-and-slow for rotisserie and BBQ cooking, this is one of the best options.
The size is a definite selling point, while the overall quality of materials helps to tie the entire package together.
If you cook outdoors frequently during the warmer months you'll struggle to find a better cooking station whether you're relaxing with family or hosting friends for a sports night or dinner party.




Bull Outdoor Products Drop-In Grill
If you've invested in an outdoor kitchen, your grill will be the central element to it. 
A premium drop-in gas grill needs to be durable, reliable, and have high cooking power.
The Bull Outdoor Products Lonestar Select is relatively light on features but has the quality and performance where it matters.
This is one of the best premium gas grills for a drop-in enclosure. Features include:
Up to 60,000 BTU of total cooking power.

4 welded gas burners made from stainless steel.

Smoker box.

810 square inches total cooking area.

Piezo igniters on every valve with a twin-ignition system.

Stainless steel construction.
The quality is key with the Lonestar Select grill. It's one of the best premium gas grills thanks to its 100% stainless steel construction that will prevent rust and deterioration.
With an outdoor kitchen, there's no option to take your grill inside during the winter, so quality materials are important.
Stainless steel will resist corrosion over many seasons, standing up to heat, grease, moisture, and cold weather.
With four main burners, it's easy to get the perfect setting for direct or indirect cooking.
There's even a smoker box included to add authentic wood smoke flavor to your meals.
The large hood is ideal for low and slow cooking or searing with some additional radiant heat.
Although this lacks the infrared, rotisserie burner, or even the side burner of some competing premium grills, this could still be the best choice if you need something that will last for years in your outdoor kitchen enclosure.




Make a Real Investment with the Best Premium Gas Grills
When you choose from the best premium gas grills you'll enjoy many seasons of flawless performance no matter your cooking style.
From the relatively portable Weber Spirit to the drop-in Bull Outdoors grill, there are premium options that cover any budget or scenario.