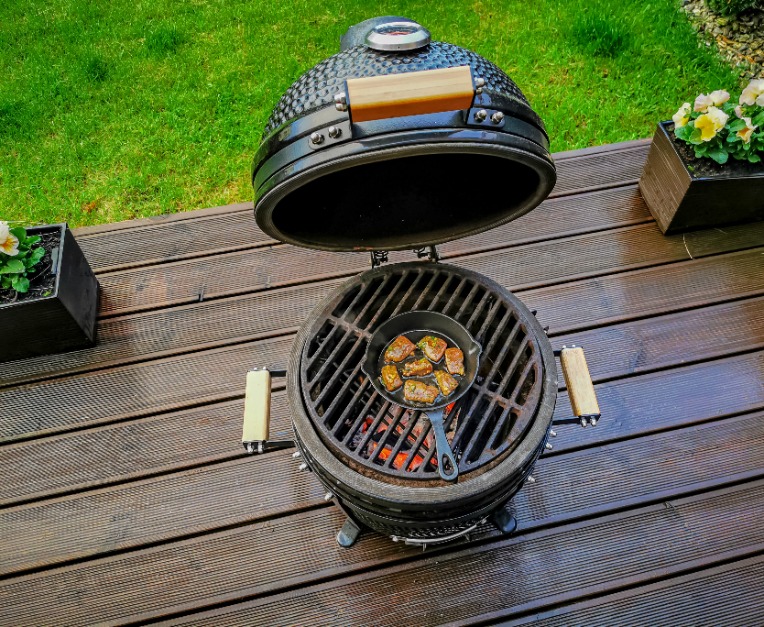 Cooking with charcoal is one of the best ways to ensure flavorful meals that your friends and family will enjoy.
There's a unique process when cooking with charcoal.
It's both rewarding and intuitive once you have a little experience.
There's been a resurgence of interest in charcoal grills lately.
A lot of this is focused on ceramic charcoal grills.
Also known as Kamado grills, ceramic charcoal grills are different from your average kettle or barrel-style grill.
Learn what is a ceramic charcoal grill and find out if this is the right style for you.
Differences Between a Ceramic Charcoal Grill and a Standard Grill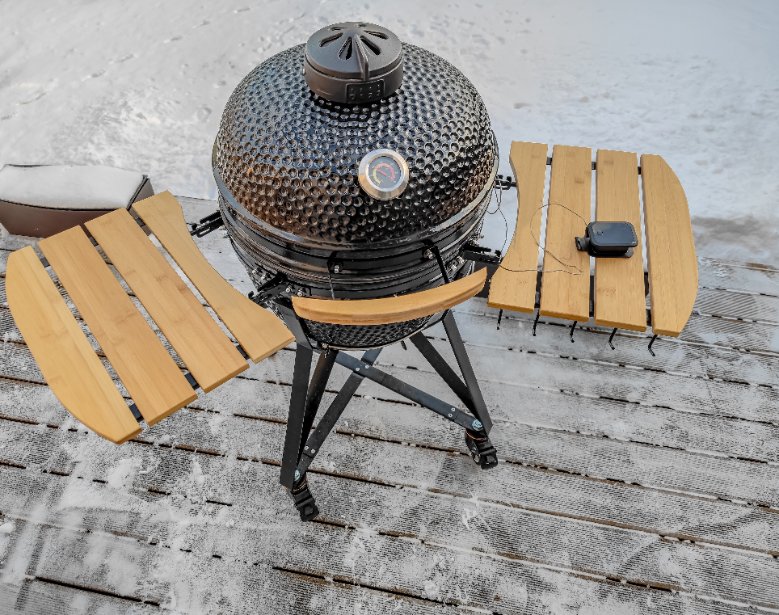 The best way to understand a ceramic charcoal grill is to consider the differences compared to other charcoal grills.
You'll find all the most important ones below…
A ceramic charcoal grill is insulated by design, so it heats up quickly and retains more heat.
You can get hotter temperatures from a ceramic charcoal grill. The best models can reach temperatures as high as 750°F.
When cooking with the hood down, the natural convection of a ceramic grill will ensure thorough cooking of ingredients. This produces better results for slow-cooked meat.
Ceramic charcoal grills retain more vapor inside to create a smokier flavor from the juices that fall on the hot coals below.
Can You Use a Ceramic Grill Like any Other Grill?
Although there are differences, ceramic Kamado grills still perform similarly to other charcoal grills.
You can cook with the top up or down.
You can add wood chips to smoke your ingredients.
And you can cook low and slow over hours for the best flavor and tender meat.
The key difference is in the design which allows for better insulation with more heat.
Are Ceramic Charcoal Grills Expensive?
Like most grill styles, the price can vary depending on the materials used and the grill size.
Some of the best models are relatively expensive, but you need to consider the size.
You'll pay more for a larger grill, and this is true even when you look at other options like gas grills.
Some of the smaller options are relatively affordable and are comparable in cost to a high-quality charcoal grill made from coated steel.
Ceramic charcoal grills are often heavier and more durable, so even while you might pay a little more, you can expect the grill to last longer and be more reliable overall.
The Best Affordable KAMADO-STYLE Grill
The Char-Griller Akorn Kamado is a popular option if you want all the benefits of a ceramic grill without the ultra-premium price.
While it isn't technically made with ceramic, an insulated Kamado grill provides the same advantages as costlier models.
It has a 20-inch diameter with a 447 square-inch cooking surface which is perfect for cooking up to 27 burgers at the same time.
Instead of using ceramic-like traditional Kamado grills, the Akorn features a triple steel insulated design that seals in the heat and allows the grill to heat up quickly and reach blazing temperatures for specialty recipes like grill-fired pizza.
The grill can maintain temperatures between 200°F and 700°F.
The Best Premium Kamado Ceramic Grill
If you want to step up in price to a premium model, consider the Kamado Joe Classic Joe II.
This grill is made from ceramic, allowing searing temperatures up to 750°F.
This grill has an innovative top vent that allows you to closely control the temperature to get the best results, no matter the recipe that you're following.
Kamado Joe is known for its quality and reliability.
The firebox is made from multiple panels with a proprietary design that prevents damage and breakage.
Ceramic is a heavy material, so this model includes an air-lift hinge that makes opening and closing the grill easy.
Spending more for the Kamado Joe will give you a premium cooking experience.
Kamado ceramic grills are the way to go if you want a unique home grill that provides maximum heat potential with durability that will last for seasons to come.