Grilling is one of the best ways to cook, and many people swear by it being the best way to cook meat.
It uses high or moderate direct heat that can be combined with convection heat when you put the hood down.
This allows for excellent flavor and the perfect doneness for steaks, chops, ribs, burgers, and other classic ingredients.
If it's time for a new grill or if you're buying your first grill, there are several brands to choose from.
You're probably wondering what is the best brand of propane grill? There are actually several options, and we've got them all covered below.




Weber – The Best All-Round Propane Grill Brand
Weber became famous for its charcoal grills introduced in the 1950s, and the Weber Kettle is still popular today.
More recently, the company has offered some of the best propane grills on the market.
Weber's commitment to quality and generous warranty period makes it the best propane grill brand overall.
Look at a model like the Weber Spirit-II E-310 for an example of where this company combines all of the most important elements of a great grill.
This grill combines stainless steel, enameled steel, and heavy-duty powder-coated steel for one of the most durable models at this price point.
The open cart is extremely solid providing stability and safety.
Weber's ignition system is one of the most reliable in the industry, making every cooking session a pleasure.
Three commercial-grade burners produce up to 30,000 BTU of heat across 529 square inches of the total cooking area.
Large side shelves and an efficient grease system top off an already excellent package.
Weber aims for simplicity in features but elegance in their execution.
You'll enjoy cooking on a Weber, and with 10 years of warranty for defects on all parts, it's a reliable long-term investment.
Char-Broil – The Best Affordable Propane Grill Brand
Char-Broil combines great features at competitive price points.
Even the most affordable Char-Broil grills are large enough for family cooking and entertaining.
Even though Char-Broil grills are affordable, they are durable and can last for many seasons. This easily puts them on our list for the best propane grill brands.
If you are looking for performance on a budget, consider the Char-Broil Classic 360 Propane Gas Grill.
This model features three stainless steel burners, a large hood, two side shelves, and a lightweight cart design.
The material is coated steel rather than stainless steel, reflecting the affordable price point.
Char-Broil performs where it matters and cuts corners where they won't be missed.
For good quality at a surprisingly low price point, Char-Broil is the best propane grill brand.
Coleman – The Best Portable Propane Grill Brand
When you want a portable grill that can be used at home, the beach, lakeside, at your favorite camping sites, or even for tailgating, Coleman makes the most compelling products.
Coleman is one of the world's most trusted outdoor brands and the company produces a range of grills that are lightweight yet durable enough to be used for many seasons.
You'll typically get smaller cooking areas than dedicated home grills, but this is a necessary compromise for portability.
The Coleman RoadTrip Portable Stand-Up Grill is one of the most popular options for camping, tailgating, and all forms of portable cooking.
It is surprisingly capable with up to 20,000 BTU of cooking power and there's even a hood thermometer built-in.
Three burners and a hood mean you can cook with indirect heat.
With a three-year warranty, you'll have confidence in your purchase.




Napoleon – The Best Premium Propane Grill Brand
Although Napoleon makes grills at different price points, the brand starts to shine when considering the more premium models.
When you're asking what is the best brand of propane grill at the high-end, Napoleon is easily the best choice.
Fit, finish, and overall design quality all come together with Napoleon. The brand makes liberal use of stainless steel for body materials and components like cooking grates and burners.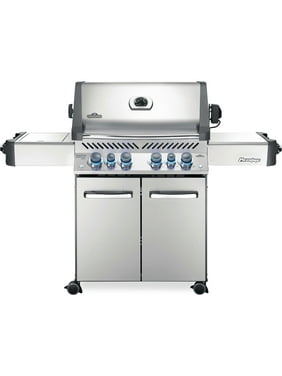 Consider Napoleon if you're looking to spend more than $1,000 on your next propane grill.
The Prestige 500 Propane Gas Grill is a great choice with stainless steel construction, a durable cart design, a large hood with rotisserie kit, a side burner, and powerful main burners.
The Best Brand of Propane Grill is the One that Fits Your Needs
We've covered all of the most popular cooking scenarios with the best brands of propane grills.
Choose the one that most suits your needs and enjoy cooking outdoors for many seasons to come.