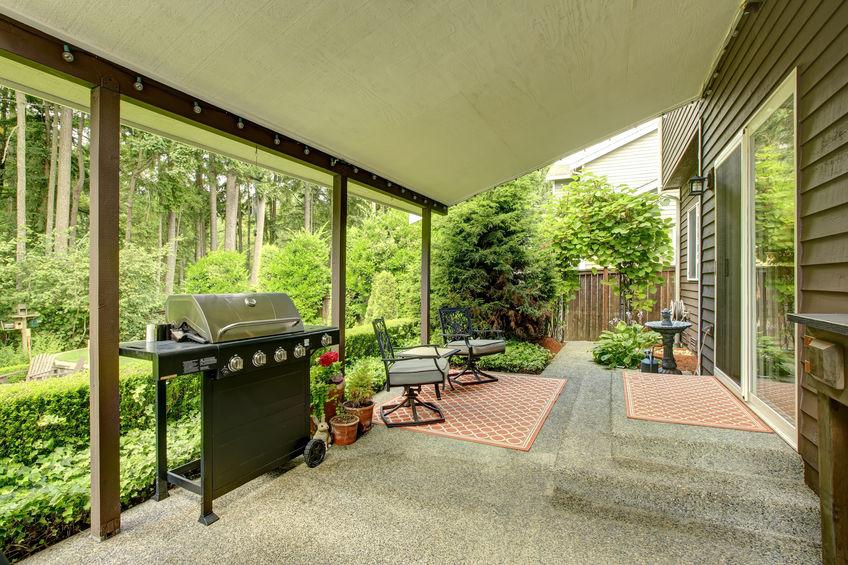 When it comes to gas grills there's no shortage of selection.
From entry-level price points, right up to premium models with high price tags, there's something for every home.
If you've outgrown your budget grill and want something with better features that is still reasonably priced, you'll find several different options to consider.
You need a good all-around grill that has the features and quality that will justify the price.
If you are looking for the best reasonably priced gas grill, the Dyna-Glo Premier 4 Burner Grill will exceed your expectations.




A Reasonably Priced Grill That Will Last
Priced at around $500 this grill sits just between the entry-level and mid-range models.
While not the most affordable option on the market, its features and quality make it the best reasonably priced gas grill.
Construction materials are important for any grill.
This model gets things right by using liberal amounts of stainless steel that will resist corrosion for years to come.
In addition to the stainless steel body panels, the grill also uses stainless caster wheels, stainless burners, and porcelain-enamel coated cooking grates.




Top Features of the Best Reasonably Priced Gas Grill

One of the most impressive aspects of the Dyna-Glo Premier 4 Burner Grill is the extensive feature list.
While most affordable grills come with three burners and open carts, this one has a semi-enclosed cart and four main burners.
The most impressive features include:
673 inches of total cooking area, with a 483 square inch main cooking surface.

Four main burners made from stainless steel.

Stainless steel grill body.

Cast iron cooking grates with porcelain enamel coating.

Folding side shelves.

Up to 60,000 BTU of total cooking power.

Available in natural gas and propane gas models.

Even heat distribution across the entire cooking surface.

Additional shelf-mounted side burner.

Large hood with an integrated cooking thermometer.
The size and burner configuration make this a versatile grill for any cooking style.




What Can You Cook with the Best Reasonably Priced Gas Grill?
You can cook all your favorite ingredients on the Dyna-Glo reasonably priced gas grill.
From hot dogs and burgers to large barbecue cuts, whole chicken and turkey, and fish, this grill will do it all.
The versatility is extended thanks to the four-burner design. It's possible to cook with indirect heat using one or two burners.
Close the hood and the natural convection will ensure that food cooks thoroughly over an extended period.
This is perfect for barbecue-style cooking, thick cuts of meat and poultry, and even for cooking the perfect juicy steaks and chops.
Simply sear over the direct heat and then move the ingredients aside and close the hood until the desired doneness is achieved.
The hood thermometer is accurate and helps when cooking with indirect heat.
You could even bake bread, muffins, and cakes with this grill thanks to the large surface area and potential for indirect heat while the hood is down.
The addition of a side burner also adds versatility.
It's ideal for a skillet, frying pan, or pot.
Heat your homemade barbecue sauce on the side and baste it onto meat as you go.
You could also use the side burner to fry eggs and other ingredients like bacon for a grilled breakfast.
A side burner is becoming one of the most demanded features on mid-range grills.
If you want an outdoor cooking station that can potentially replace your kitchen during the warmer months of the year, the Dyna-Glo would suit.




A Reliable Cast Iron Cooking Surface
Premium grills often come with stainless steel cooking grids, but many buyers prefer cast iron.
This grill uses cast iron with a porcelain-enamel coating so that you will never have to worry about seasoning.
The cast iron won't rust, and it has natural non-stick properties.
Cast iron retains heat so it's great for searing as well as indirect cooking.
It will also create the classic sear marks that home grilling enthusiasts love.
If you want your food to look as good as it tastes, then you'll love the cast iron surface on this grill.




Is It Worth Spending More for the Best Reasonably Priced Gas Grill?
If you compare this grill to some smaller models and even entry-level grills, the price jump is significant.
However, it is a relative bargain when compared to the most expensive premium grills.
If you want more cooking area, better overall quality, and an improved cooking experience, then the Dyna-Glo Premier 4 Burner Grill is definitely worth the money.
Combining reliability, premium materials, and a large cooking surface for its price point, this is the best reasonably priced gas grill that will expand your outdoor cooking options.