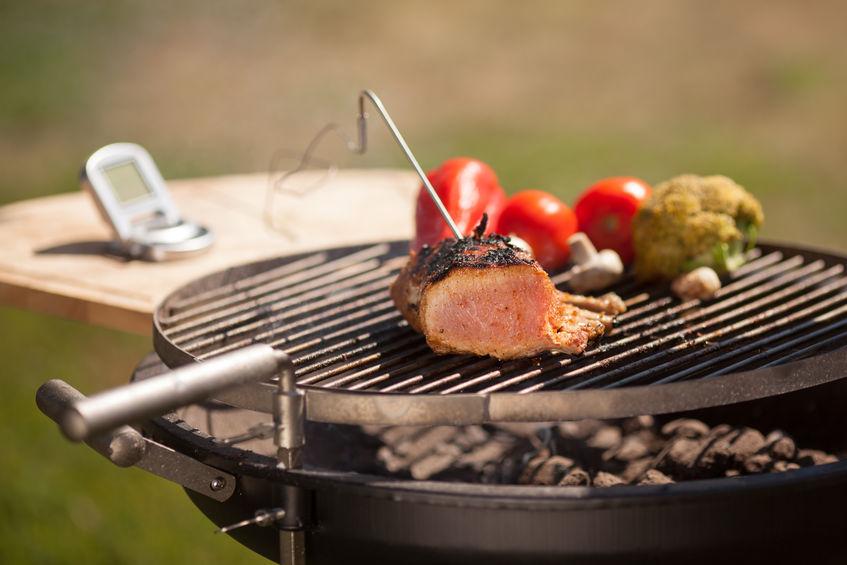 There's nothing worse than slicing into your favorite grilled meats and finding them to be over or undercooked.
Temperature is everything when it comes to flavorful foods, and the only way to get an accurate reading of interior temperatures is to invest in a high-quality meat thermometer.
If you want to perfect your recipes and get consistent results every time, it's time to find out which is the best meat thermometer for grilling meat on the barbecue.
We've reviewed three affordable options that will suit any outdoor grill.




Powlaken Meat Food Thermometer

for Grills and Indoor Cooking
You don't need to spend a lot to get a reliable and accurate meat thermometer for outdoor grilling.
If you typically cook single cuts and want something simple and easy to use, the  Powlaken Food Thermometer is an excellent choice.
This thermometer works quickly to provide an accurate temperature within three seconds.
It is waterproof and can be used both indoors and outdoors.
The probe is ideal for measuring the interior temperature of even the largest barbecue cuts, poultry, and smoked meat.
This thermometer can even be used for beverages and soups, making it just as versatile as it is affordable.
With a great price, this is an ideal first meat thermometer or all-around thermometer for your kitchen and patio or backyard.




ThermoPro TP-16 Large LCD Digital Cooking Thermometer
A handheld thermometer is great for spot-checking temperatures during and at the end of grilling.
If you're looking for something where the probe can be left in the meat, poultry, and other ingredients for the entire cooking session, then the ThermoPro TP-16 Large LCD Digital Cooking Thermometer is a great option.
This is one of the best-reviewed thermometers on the market today, with thousands of customers giving it four and five-star ratings for performance, reliability, and value.
Impressive features include target temperature with alarm, countdown timing, and helpful doneness indicators for cooking poultry, beef, ham, pork, and other popular ingredients.
The thermometer probe and its heat resistant cable can perform in temperatures ranging from 32°F up to 572°F, making this thermometer ideal for outdoor gas, electric, and charcoal grills and smokers.




Enzoo Wireless Meat Thermometer for Grilling
The Enzoo Wireless Meat Thermometer for Grilling offers similar features to the ThermoPro, with four probes instead of just one.
You can monitor the internal temperatures of several ingredients at a time, making this model ideal for the most demanding home cooks.
There are two modules included in the package.
The first is a wireless transmitter that is left at the grill or smoker.
It monitors temperatures continuously throughout cooking.
There's an additional receiver module that can receive live updates of temperatures up to 500ft away from the transmitter.
For slow grilling and smoking, this is a convenient add-on.
You can step away from your grill and still get accurate updates on all of your ingredients.
Like the ThermoPro, this thermometer has timer settings and doneness indicators for beef and other ingredients.




Grill Like a Professional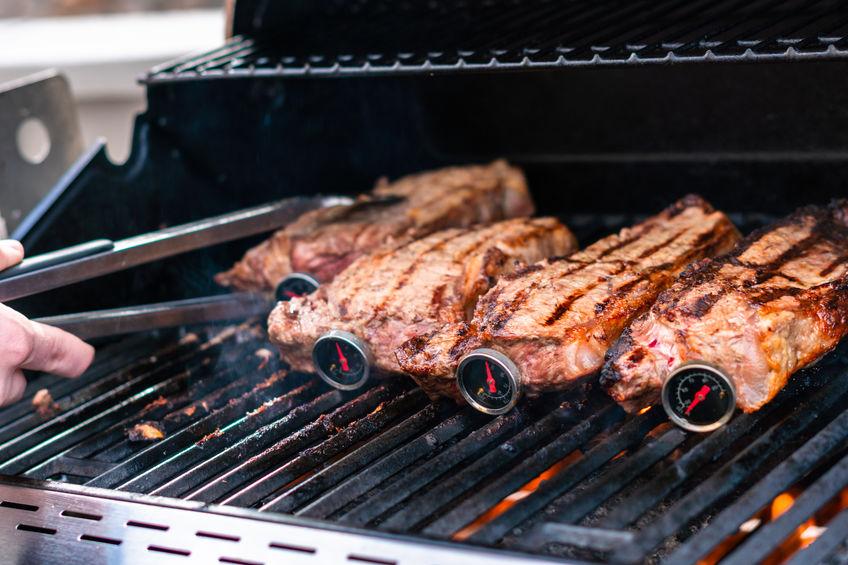 With an accurate thermometer, you'll get flavorful results and consistency throughout all of your ingredients.
Whether you invest in a simple instant probe or a larger thermometer for continuous monitoring, you'll find that your cooking process improves dramatically with the best meat thermometers for outdoor grilling.